Roman Seleznev has been found guilty
to 38 of 40 charges against him by a Seattle-based jury. Seleznev's case created an international stir when he was arrested while vacationing in the Maldives and arraigned in July of 2014 in the US Territory of Guam (as we wrote about. See: "
Roman Seleznev (AKA Bulba, AKA Track2, AKA NCUX) appears in US Court in Guam
").
According to the DOJ Press release: "Evidence presented at trial demonstrated that the malware would steal the credit card data from the point-of-sale systems and send it to other servers that Seleznev controlled in Russia, the Ukraine or in McLean, Virginia. Seleznev then bundled the credit card information into groups called "bases" and sold the information on various "carding" websites to buyers who would then use the credit card numbers for fraudulent purchases, according to the trial evidence. Testimony at trial revealed that Seleznev's scheme caused 3,700 financial institutions more than $169 million in losses."
Sentencing will be held Dec 2, 2016.
Some of the charges to which he was found guilty include five counts of Bank Fraud, eight counts of Intentional Damage to a Protected Computer, eight counts of Obtaining Information from a Protected Computer, one count of "Posession of Fifteen or More Unauthorized Access Devices" (yes, 1.7 million is more than 15!), two counts of Trafficking in Unauthorized Access Devices, and five counts of Aggravated Identity Theft.
The Seattle Case
While Seleznev was indicted in a RICO racketeering case regarding his role in the Carder.su website, the trial that concluded this week was about his personal hacking and carding campaign, beginning with his attacks against restaurants in Seattle, Washington.
According to the PACER Records, on Day 1 of the trial (August 15, 2016) the jurors were empanelled and received instructions, and the government made their opening statement. On Day 2 the defense made their opening statement, and presented witnesses including Special Agent in Charge David Iacovetti, Andrei Medvedev, and Detective David Dunn, who also testified on Day 3. On Day 4, Special Agents John Szydlik, David Mills, and Michael Fischlin testified. On Day 5, witnesses included Richard Noel, Jason Winship, and Special Agents Keith Wojcieszek and Michael Fischlin. On Day 6 (August 22, 2016), C.J. Saretto, Bob Kerr, Chirstopher Forsyth, Diane Cole, Joe Angelastri, and Megan Wood testified. On Day 7, witnesses Steven Bussing, Christopher Doyle, and Sidney Fanarof testified. The defense called a single witness, Eric Blank.
Day 8 of the trial was primarily closing arguments and jury instructions. The jury returned their verdict on Day 9: Guilty on counts 1-10, 12-19, 21-40. Not guilty on counts 11 and 20.
The Trial Exhibit List is amazing! Forensic Evidence extracts from many of the restaurants involved, including Schlotsky's, Broadway Grill, Mad Pizza (5 locations), Casa Mia, Grand Central Baking, Village Pizza, Red Pepper Pizza. Screen shots of the "Bulba.cc" and "Track2.name" webpages, including the order screen, and evidence of undercover purchases made in April 2011. They seized the hard drives from a server hosted at Hop One's data center in Indonesia, and showed the log files for that server, as well as domain registration information for ncux.asia, ncux.tv, bulba.cc, track2.name, 2pac.cc, POSDumps.com, track2.tv, track2vip.tv, and track2.cc. Many other emails showing that emails controlled by Seleznev were used to transact business related to all of the above were also introduced. Posts made using the nCuX userid at Carder Planet, Carding World, Dark Market, and Carder.su were shown. Transaction records, with IP addresses, for Liberty Reserve Accounts controlled by Seleznev were also provided. Seleznev's laptop, iPhone, and iPad and reports of data from those devices were also provided, including a userid and password file (1Back14May.txt) and search histories and chat logs recovered from those devices. The whole trial exhibits list is 23 pages long!
This screen shot from Bulba.cc was provided by Brian Krebs, in his story "
Feds Charge Carding King in Retail Hacks
" from July 2014.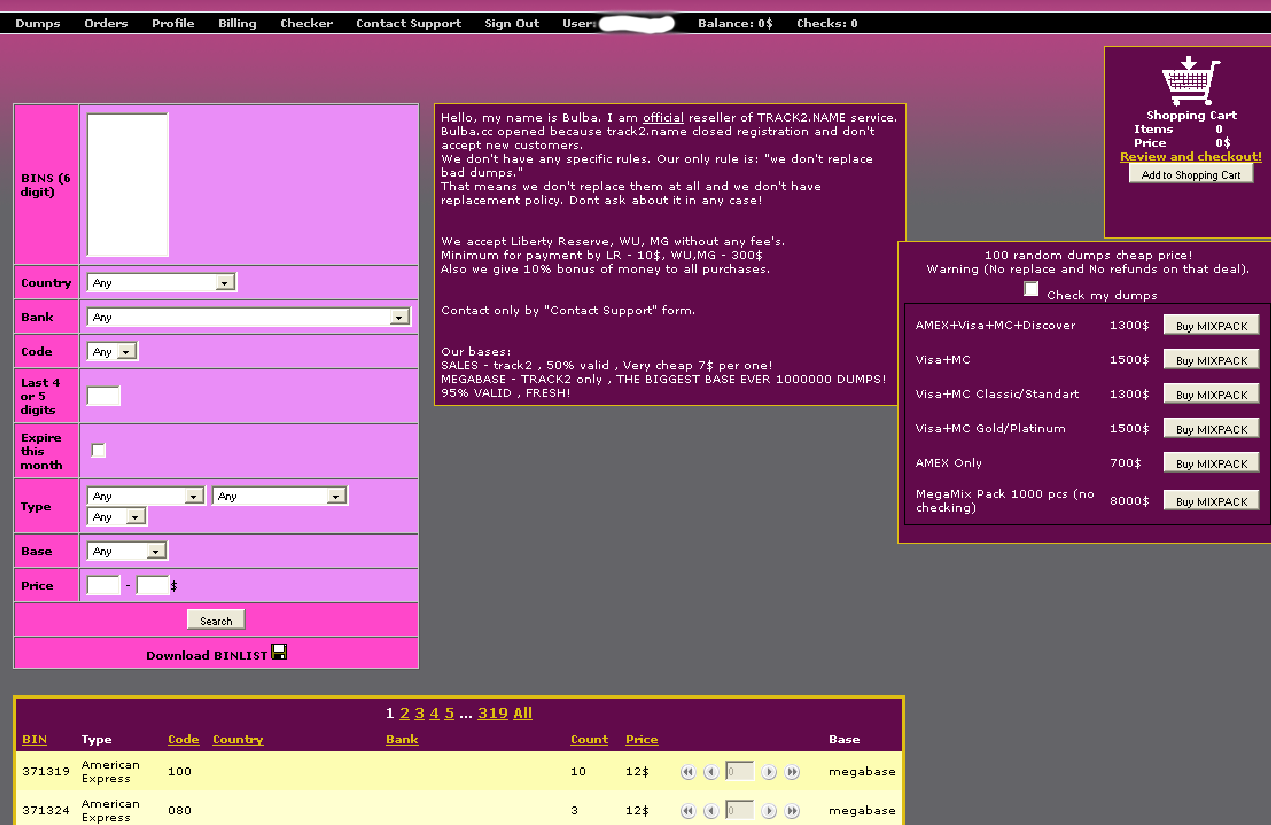 The malware C&C locations from shmak.fvds.ru - located at 188.120.225.66, was where the Point of Sale malware was installed from. According to the InfoSec Institute story, "
Malware based attacks against POS systems
", the malware used was BlackPOS, likely purchased from the hacker "Ree[4]" who is believed to be Rinat Shabayev, working on code developed by Sergey Taraspov. In interviews with
Russian media
, Shabayev indicates that he modified and distributed the POS malware,
Картоха,
used in the Target breach.
While Seleznev is part of the Carders.su case in Las Vegas, the point of the separate trial was to address his use of Point of Sale malware to directly steal credit card data and sell it on websites that he created and controlled. Just on the bulba.cc and Track2.name websites, from November 15, 2010 to February 22, 2011, Seleznev posted 200,000 credit card numbers and sold 140,000 of them, earning more than $2 million from the direct sale.
The rest of the dollar losses came from the forensic accounting that had to come next. Given this list of cards, can we demonstrate loss due to fraudulent use of those cards. For example, from page 10 of the indictment, just the cards stolen at the Broadway Grill -- over 32,000 cards stolen between December 1, 2009 and October 22, 2010 -- caused actual losses of $79,317.00 just at the Boeing Employees Credit Union there in Seattle, and losses to other banks of $1,175,217.37.
Seattle Detective David Dunn, who we've written about in this blog before (See
the Christopher Schroebel case
), was the star witness in this case. It was his forensics work at the Broadway Grill that started the case. By tracking the malware at the Broadway Grill, Dunn was able to then look for other Seattle properties that were also communicating to the Command & Control Server. These turned out to include Grand Central Baking Company, four Mad Pizza restaurants, Village Pizza in Anacortes, Washington, and Casa Mia Italian restaurant. Once Dunn realized the scope of the case, he referred other log file entries to other jurisdictions, working in his capacity as a member of the US Secret Service's Electronic Crimes Task Froce. This led to the discovery of active malware in a Schlotzsky's Deli in Idaho, a Jewelrey store in Maine, Latitude Bar and Grill in NYC, Grand Canyon Theatre in Arizona, the Phoenix Zoo, Mary's Pizza Shack in Sonoma, California, and multiple locations in Evanston and Chicago, Illinois.
To make their case, the detectives, Special Agents, and prosecutors then had to compile all of those stolen cards and work with the financial institutions where the cards came from in order to figure out how many dollars in fraud were generated. That's the process by which they demonstrated 3,700 financial institutions had lost more than $169 million in fraudulent charges based on the cards that Seleznev had stolen alone!
Operation Open Market
In addition to running his own exclusive carding sites as shown in the Seattle case, Seleznev was also a major player in a larger carding market known as Carders.su. (SU is the country code for Soviet Union). Operation Open Market is the Las Vegas case where many criminals have already been sentenced for their role in the carders.su website. That case focused on Cameron Harrison, aka Kilobit, and 55 co-defendants, including Seleznev. The investigation began back in March 2007 when an alert manager of a Whole Foods recognized Justin Todd Moss as someone who had used fake ID to steal from his store. Moss turned out to be "Celtic", a seller of online ids. Secret Service agent Mike Adams assumed Moss's online persona, and began selling counterfeit identifications to several of the people who have now found themselves in prison because of this investigation. WIRED magazine's Kevin Poulsen has a great write-up on that aspect of the case. (See: "
The Secret Service Agent Who Collared Cybercrooks By Selling Them Fake IDs
").
In total, at least 33 of the 56 indicted criminals have already been sentenced, although several, including at least two of the leaders, are still at large with rewards pending for their arrest. Want to make some money?
Konstantin Lopatin, aka Graf, DOB 09/11/1982, Russian. $1 Million reward:
Roman Olegovich Zolotarev, aka Admin, aka DJ Goren, DOB: 10/20/1985. $2 Million reward
The case was broken down into several trials. Case No: 2:12-CR-004 was specifically focused on the Carder.su activities:
Harrison, aka Kilobit was a 28 year old hacked from Augusta, Georgia, who was
sentenced to 115 months in prison
for his part in causing $50 Million in online identity theft trouble. When he was arrested he was found to be in possession of 260 compromised credit and debit card numbers. Seleznev possessed 1.7 million cards.
Alexander Kostyukov
, aka Temp, aka KLBS, 29, of Miami - sentenced to 9 years on December 9, 2015
Jermaine Smith
, aka SirCharlie57, aka Fairbusinessman, 34, of New Jersey - sentenced to 150 months on April 9, 2015
Makyl Haggerty
, aka Wave, aka G5, 24, of Oakland, California - sentenced to 100 months on August 22, 2014
Michael Lofton
, aka Killit aka Lofeazy, 36, of Las Vegas - sentenced to 24 months May 28, 2014 and 63 months on May 22, 2014 - he committed additional crimes while awaiting sentencing on the first case!
David Ray Camez
, aka Bad Man, aka doctorsex, 22 years old - sentenced to 20 years in prison on May 15, 2014.
Case No: 2:12-CR-083 also was concerned with Stolen Identity Refund crimes against the IRS, but all of these were also members of carder.su:
Jason Maclaskey
, aka Shinnerbock, aka That Guy, of Spring, Texas - sentenced to 10 years + 3 years supervised release on July 27, 2015. Sentenced at the same time as Jason were Omar and Heather:
Omar Butt, aka Fear, of Brooklyn, New York - sentenced to 40 months on July 27, 2015.
Heather Dale, 25, of Grant Alabama - sentenced to 24 months.
Billy Steffey, aka Oink Oink, aka FredFlintstone, aka Yomamma,
Case No. 2:12-CR-084 included Thomas Lamb, Jonathan Vergnetti, Roger Grodesky, and John Holsheimer.
As more links to sentencing documents are found, we'll update this page. In the meantime, to see which charges were brought against which vendors, please see "
Operation Open Market: The Vendors
"