How Long is the Long Arm of the Law? Its at least long enough to reach from eBay headquarters to Romania. In another example of the successful international cooperation between the FBI and Romanian Cyber officials, 22 more Romanians have been arrested for Internet Fraud Crimes.
The first English language story that I've seen was on
Romanian Authorities Arrest 24 Suspects in Internet Frauds
.
A Romanian story with today's date has more details, for those who speak Romanian:

Romanian story here: În afacerea Malware, 21 de persoane arestate
. The Romanian story mentions that some of the electronic commerce sites targeted by the group included e-Bay, Equine.com, and Craigslist.com. Along with computer equipment and equipment to make false identities, the police seized mobile phones, SIM cards, and funds in Lei (romanian money), Euros, British Pounds, and US Dollars.
The arrests were made in the Romanian cities of Bucharest, Ramnicu Valcea, Sibiu, Alexandria, Dragasani, and Hundeoara. The leader of the group, Romeo Chiţă, was arrested in an apartment home belonging to a Romanian elected official, Dumitru Puzdrea.
Puzdrea denied
knowing anything about Chiţă's illegal activities.
One news crew was on site to see some of the hackers arrested.
Here's a video taken in Râmnicu Vâlcea
from yesterday afternoon. Watch to the end to see hackers in handcuffs. The accompanying
Romanian News Story
is getting commented on heavily - 57 comments already by this posting. Very educational. It seems the "F" word is the same in English as it is in Romanian.
Three un-named Romanian Hackers from Ramnicu Valcea: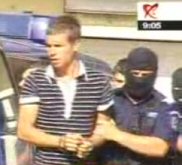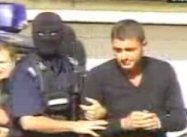 I'll post more information as it becomes available, but congratulations to the FBI, and to the Brigada Specială de Intervenţie a Jandarmeriei, and DIICOT (Romanian organized crime and anti-terrorism squad)